Our Mission:
We help cannabis entrepreneurs develop higher-quality, better-tasting edibles through science and foodcraft—so you can captivate customers and scale successfully.
The next era of cannabis edibles is here. Are you ready?
The cannabis market is saturated with okay-quality edibles. But consumers are getting tired of it. So how do you make sure you're equipped to compete as quality expectations rise?
Why science & quality matter
Whether scaling craft recipes for market demand, masking bitter flavors, or figuring out why your cannabis beverage isn't lasting on the shelves—food science can provide your answer.
Quality and consistency are how you keep customers returning. Which is how you compete in a market flooded with mediocre products.
The edibles market is growing fast…
In 2021, edibles increased their US cannabis marketshare by 2%—which is a lot when you're talking about billions of dollars. Older generations are increasingly turning on to cannabis—and their preferred method of consumption is edibles.
But they also tend to have higher expectations for quality and taste.
Solving the cannabis edibles flavor problem
What's the most common complaint about cannabis edibles? Say it with me: bitter aftertaste.
Cannabinoids are bitter. It's a fact of life. Most edibles manufacturers simply add cannabis extracts to recipes without accounting for that.
But what if you were empowered by the knowledge and experience of a PhD in bitterness modification? What kind of flavors would you focus on then?
"Dr. Alan's extensive knowledge, enthusiasm, and high level of teaching skills have been truly inspirational—our week of food-science consulting exceeded my highest expectations."
Josefin Zernell
Mork Chocolate Australia
Founder
"I told Dr. Alan: make the best. Don't limit your creativity. Product quality is most important… He delivered these nanoemulsion gummies and my marketing team couldn't stop eating them because the flavor blew their minds. They ate so many that—well, imagine a line of creatives moonwalking in business attire, holding onto the wall, trying to get down the stairs."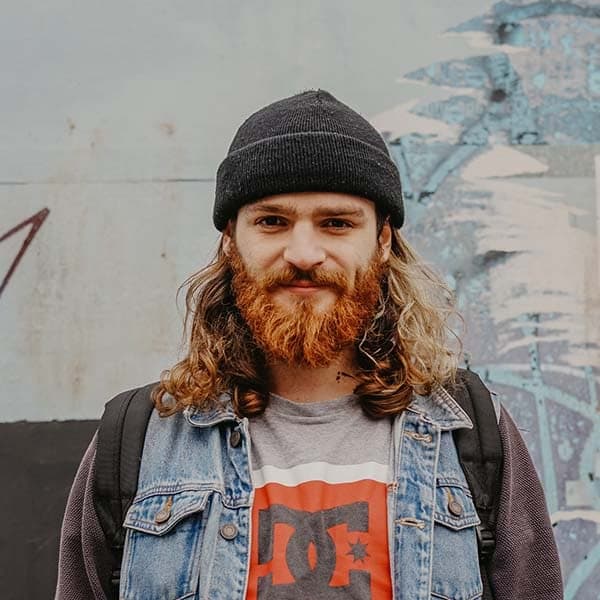 Ken Bender
R&R Manufacturing
Co-Owner & Head of Operations
"[Alan McClure] has won an award every year…ten years in a row. A record-breaking 26 Good Food Awards and 350,000 chocolate bars; that's a lot of happy people."
Sam Mogannam
Good Food Awards
Master of Ceremonies
Dr. Alan: Founder & Head Alchemist
Before I became a food scientist & flavor mage…I spent 10 years winning awards as a chocolate maker of some renown, after working as a line cook and then spending a year in France for an eye-opening adventure in deliciousness. When I wanted to go molecular on what makes chocolate taste so good, I got my PhD in the chemistry of flavor.
And now I'm sharing that knowledge with you, to develop better cannabis edibles for the hungry masses yearning for yummy.
FAQ
If you have a question about food, science, cannabis, or chemistry…chances are we can help you.
If you don't see your answer here, feel free to reach out with any question.
Why are my cannabis edibles turning out bitter?

Good flavor is often a matter of balance. For our purposes that generally means sweet, sour, salty, and bitter.

A number of different elements cause bitterness in edibles. For one thing, the molecular structure of cannabinoids makes them inherently bitter to our taste receptors. Along with that, certain process steps may also introduce or enhance bitterness—such as roasting, adding acidic ingredients, using one type of cannabis extract instead of another.

But science-based formulation doesn't mean adding a bunch of fancy chemicals. Even clean-label edibles can be bitter-balanced with sugars, sour ingredients like citrus, and other natural flavors. That's the magic of flavor chemistry—once you know how edible molecules dance with our senses, you can summon all kinds of natural elements to solve the puzzle.

But if that's not enough—there's our proprietary blend of all-natural molecular structures specifically designed to encapsulate, block, and otherwise dramatically reduce bitterness in cannabis edibles. Currently available only to clients with custom formulations.
How come my gummies aren't setting right or are turning out watery?

Gummies are by far the most popular category of cannabis edibles on the market. But that doesn't mean they're easy to manufacture—nor that all gummies are made equal. There are several different gelling ingredients for making cannabis gummies, each with their own pros and cons.

Gummies that don't set may be suffering from a number of different glitches. It could be as simple as forgetting to decrease the proportion of water when scaling a batch. Or it could have something to do with pH or temperature. Or there could be something off about your gelling agent.

That's about all we can say without knowing more about your recipe. Feel free to reach out with specific questions. At Elevated Flavors we can call on some scientific lightning to resuscitate your gummy recipe and help you improve the flavor at the same time.

That said though, we always recommend you work with a food science consultant about cannabis gummy formulation before you get started. We can save you time, money, and headaches at every step of the process.
 What do edibles customers want?

Our founder and formulations wizard, Dr. Alan McClure, is a multi-award-winning expert in flawless flavor. With 15+ years of experience in the premium- and craft-food business, he has a sixth sense for what consumers love and what they hate.

We can also help you find out exactly what your customers want through a process of sensory analysis/consumer focus groups. This will all help you avoid disappointing your customers and distributors in the future.
How does cannabis edibles food science consulting work?

Every project is different and we customize our processes to fit your needs. But generally we'll figure out the problem and lay out a strategy together for solving it. Then we break it down into science-based action steps based on a timeline that fits your budget and goals.

Check out our Services page for more about the Elevated Edibles process.
Do I have to pay for the initial consultation?

Nope! The initial conversation and any ideas or information we send you is complimentary.

We stand out by offering food science knowledge and creative value you can't get anywhere else. Whatever you get from the initial consultation is just a hint of what we offer with full service.